Our green Mango Tree Cottage

Our large "Mango Tree" cottage is surrounded by palm trees and an impressive sea of flowers. The green atmosphere has a calming effect and is the perfect accommodation for 1 to 3 people. Whether you're sitting on your patio enjoying the tropical garden or just returning from an exciting trip, our cottage is your perfect vacation retreat!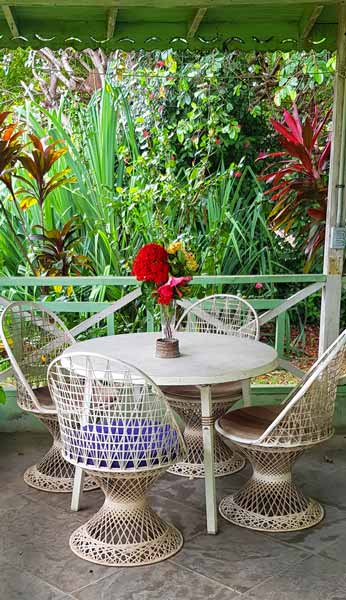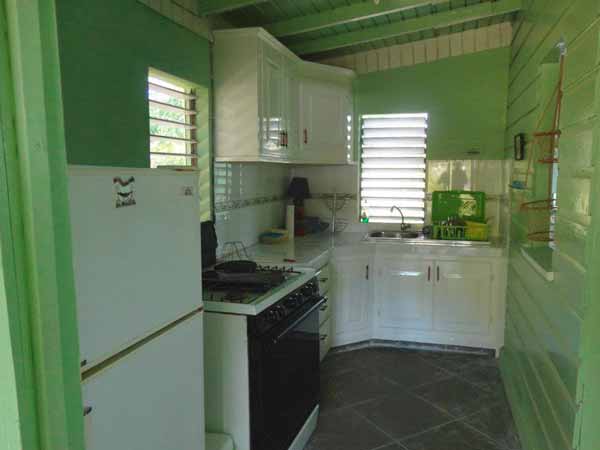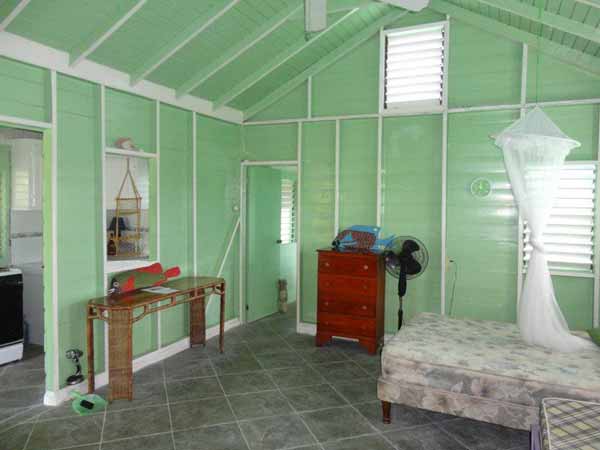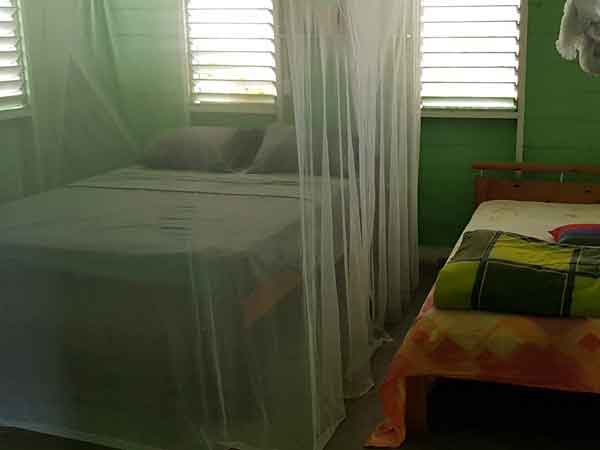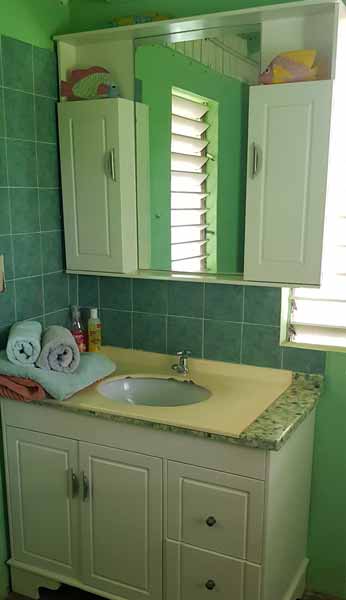 ---
The "Mango Tree" Cottage has a shared living/sleeping area and is perfect for a small family (3 people) among others. The sleeping area includes a double bed and an extra bed (1.40 meters wide), which can be used as an extra bed if desired or simply as a couch to relax on during the day. The kitchen, integrated in the living area, is perfectly equipped for self-catering thanks to a gas hob and oven. Thanks to the refrigerator with integrated freezer, drinks stay refreshingly cool and food fresh.
The covered porch invites you to enjoy a delicious outdoor breakfast every morning. In the morning hours you can watch our swallow colony flying. These special birds live in a palm tree in our yard and offer a rare and impressive natural spectacle. Now a relaxing day of swimming can begin, because just a minute's walk from the cottage begins our sandy beach. The waves are crashing and the sun is shining!
Mosquito nets on all windows and additionally over the double bed ensure a restful night. The sleeping area offers a high-quality mattress as well as a dresser and a mirrored wardrobe. Sockets in 110V and 220V are available. The bathroom in the cottage has a shower, a clean toilet and a sink with dresser and mirror cabinet.
On the yard there is also the main house where our guests can meet. Here you can get tips on places to visit or just have a small talk about individual tours to popular beaches, private boat trips, rum distilleries and culinary trips and excursions to our regional insider tips. Who does not want to cook yourself: No problem! We are passionate about cooking, Jamaican cuisine as well as German treats or fusion cuisine – everything is possible upon request! You can use our free wifi at any time in the main house. If you would like to know more, please send us a booking request below!
---
Equipment
Living room and bedroom for 1 to 3 persons
All windows are closed with mosquito net
Double bed with high quality mattresses and mosquito net
Extra bed with 140 x 200 m
Closet and seating furniture
Fully equipped kitchen with gas hob/ oven and a fridge/freezer
Bathroom with WC, shower and sink
Sockets in 110V as well as in 220V
Covered veranda with seating
Deck chairs at the main house
Service